Mark is going to flip when he finds out I'm even CONSIDERING blogging every day this month. His question is going to be, "So what are you giving up?" After much consideration, I've decided to give up checking others' Facebook status' this month in order to focus more on spreading awareness about this pesky and perky little extra 21st chromosome.
After all... it's Down Syndrome Awareness Month. And it will be kicked off "live and in person" for us in WI tomorrow (10/2) when we do our awareness walk (it's in Neenah at Riverside Park). Rachel Coleman of Signing Time will be doing a performance, which is very exciting for those of us whose ears hear, "It's signing time with Alex and Leah. Come and play," in our sleep.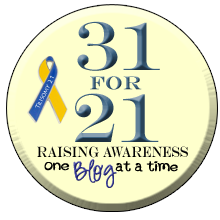 Last year I took questions about Down syndrome in general, or Micah in specifics. I'll do the same this year. So fire away! I'm happy to share.
On the "Micah in specifics" front... we spent one night in the hospital this week as he's gone over a week with a GI bug. Given his immunology issues as well as his gut history, his pediatrician determined it was in his best interest to spend a night inpatient for fluids. Little did she know that the (wonderful) people in the ED at Children's would not be able to get an IV line into him (six tries... not fun). They resorted to a finger prick to check electrolytes, CBC, etc., and then determine whether they had to pull out the big guns for the IV. Eventually they decided to just give him high amounts of pedialite through his g-tube overnight and see if he tolerated it. Fortunately, he did tolerate it and no IV was needed. But it was a tedious overnight resulting in little sleep for anyone.
(Micah's illness somewhat explains why I haven't yet posted about Nathan's FIFTH BIRTHDAY. I will do that soon, but likely not until I can go through photos and that won't be until we're back in MN).